TeamSport Crawley Re-opens after rebrand

TEAMSPORT CRAWLEY GOES ELECTRIC
2023-09-06
TeamSport Crawley is back after the rebrand to E-Karting.
Now offering thrill-seekers a 750M multi-level circuit to race round. The track also now boasts a new and improved pitlane, along with some breath-taking straights for building up speeds and challenging tight bends to negotiate, this is the ultimate destination for adrenaline-junkies.
The track is located is 9 minute drive from Crawley Train Station and is an ideal place for a family-friendly day out, providing a safe, fun, unmatchable go-karting experience where you'll suit up into professional racing gear, have a full safety briefing and even receive some racing tuition.
The move to electric karts follows our journey to our TeamSport E-Karting brand, in aim to offer a more authentic race feel and to encourage new guests who may have been put off karting with the traditional petrol karts. It also ties in nicely with TeamSport's ESG policy to contribute towards a sustainable environment and a healthy society.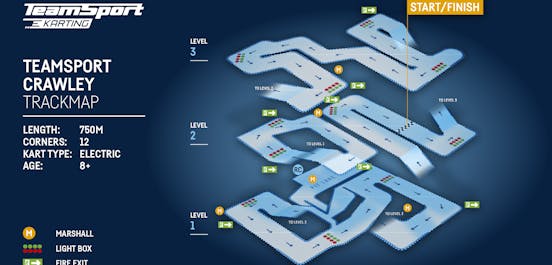 TEAMSPORT CRAWLEY TRACKMAP
It's time to experience awesome! Prepare yourself for speeds of up to 40mph, on this awesome 750m track, split over 3 levels! Whether it's your first time karting or you're a seasoned pro, this circuit is a thrill seeker's dream for an adrenalized rush to battle it out with friends, family, or on your own in full race mode. So, strap on your helmet, brace yourself, and get ready for some serious fun.
CHECK OUT TEAMSPORT CRAWLEY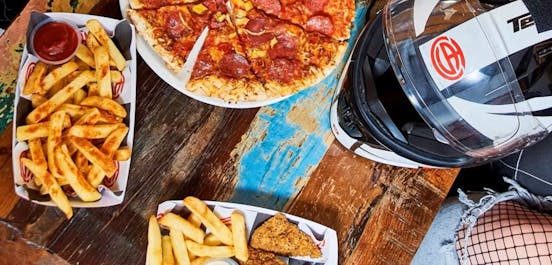 FOOD AND DRINK
Whether you're looking for a light bite or one of our delicious pizzas or paninis, we've got something for everyone. Children's options are available as well as our breakfast being served all day.
*Please be aware that alcohol can only be consumed after karting or e-karting and if you are lucky enough to look under 25 you will be asked to prove that you are aged 18 or over when receiving or purchasing any alcoholic beverage.
CHECK OUT OUR FOOD AND DRINK OPTIONS