TeamSport Preston is almost ready!
2023-05-15
TeamSport Preston is officially re-opening it's doors on Friday 19th May, after a successful renovation.
The venue now boasts two awesome tracks, one of which is a multi-level E-karting circuit, with 450M of racing line and 12 heart-racing corners. Racegoers can now experience an authentic race feel, whilst they fly around the new circuit, in the brand-new fleet of electric karts. The track has been specially designed to allow for more overtaking opportunities, guaranteeing drivers will feel the joy of the faster acceleration provided by the e-karts. 
Dom Gaynor, CEO of TeamSport, said: "We are proud to finally be reopening our Preston circuit and are thrilled to welcome our members back after two years. The new electric fleet at Preston is remarkable and it promises to be a fun, adrenaline-pumping experience for everybody to enjoy."
The second track holds the remarkable new addition Combat Karts, the ultimate gaming and racing experience on its own dedicated track. 8 players can compete for the podium by collecting and using boosts like Power+, Turbo, Blast, Shield and Zap to make sure they cross the finish line first and are top of the podium!
The venue also holds a brand new bar with a new and updated menu, meaning you can relax in style off-track.
What are you waiting for? Book now to secure your spot on our new renovated track!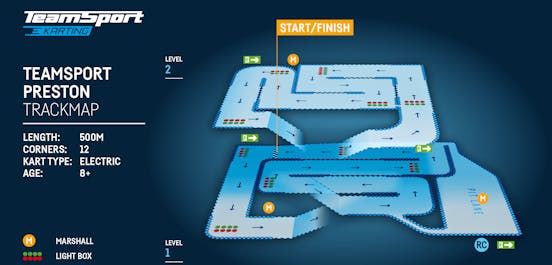 TEAMSPORT PRESTON TRACK
It's time to do something awesome! Prepare yourself for speeds of up to 40mph, on this awesome 500m multi-level track. Whether it's your first time karting or you're a seasoned pro, this circuit is a thrill-seekers dream for an adrenalized rush to battle it out with friends, family or on your own in full race mode. So strap on your helmet, brace yourself and get ready for some serious fun.
CHECK OUT TEAMSPORT PRESTON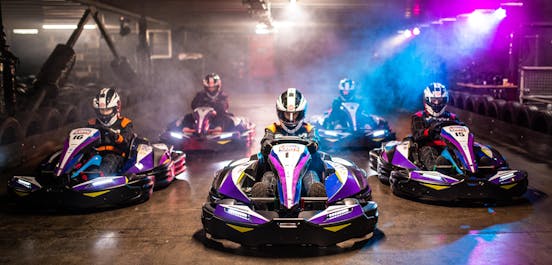 COMBAT KARTS - OPEN NOW
Brand new experience! Challenge your friends in a race where karting and gaming are brought together. Take part in a series of nail-biting laps and use exciting boosts to increase your chances of winning.
CHECK OUT COMBAT KARTS