Helmet Size Guide for Go Karting
When it comes to go-karting, your safety gear is just as crucial as your driving skill. 
If you're gearing up for an adrenaline-pumping day at the karting track with TeamSport, safety should be your top priority. Ensuring that your helmet fits correctly is paramount. 
In this guide, we'll explore helmet sizing, how to measure your head for a karting helmet, and everything you need to know about choosing the perfect headgear from our range of TeamSport helmets, so that you can stay safe and have a blast on the track.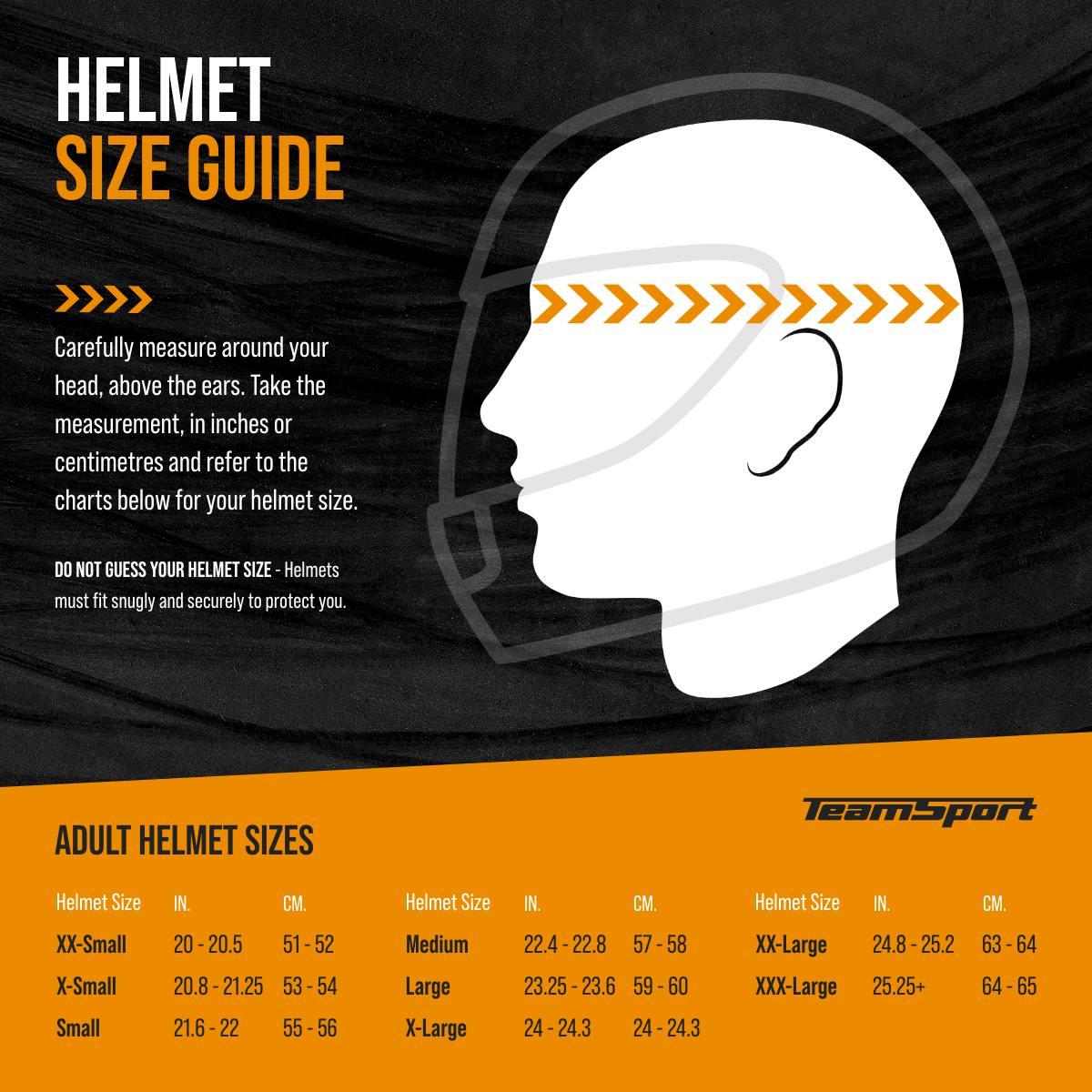 How to Measure Your Head for a Karting Helmet
DO NOT GUESS YOUR HELMET SIZE - helmets must fit snugly and securely to protect you. Finding the right helmet size begins with accurately measuring your head. Here's a step-by-step guide:
Step 1: Gather Your Supplies
You will need a soft measuring tape and a mirror (or friend) to assist you with measurements. 
Step 2: Measure the Circumference of Your Head
Start by positioning one end of the tape just above your eyebrows. 
Wrap the tape once around your head, keeping it level and snug
Ensure it sits just above your ears. Keep the tape in place, take the measurement, and note it down.
Step 3: Finding Your Size
Once you have your head measurement, compare it to a helmet size chart. We've provided our detailed helmet size chart below for reference, making it easier to determine your ideal size.
Interpreting Helmet Size Charts
Adult Helmet Sizes
| Helmet Size | Inches | Centimeters |
| --- | --- | --- |
| XX-Small | 20 - 20.5 | 51 - 52 |
| X-Small | 20.8 - 21.25 | 53 - 54 |
| Small | 21.6 - 22 | 55 - 56 |
| Medium | 22.4 - 22.8 | 57 - 58 |
| Large | 23.25 - 23.6 | 59 - 60 |
| X-Large | 24 - 24.3 | 61 - 62 |
| XX-Large | 24.8 - 25.2 | 63 - 64 |
| XXX-Large | 25.25+ | 64 - 65 |
Helmet size charts typically list sizes based on head circumference, either in inches or centimetres. 
The measurement you took in Step 2 will be your key to finding the right size on the chart. Keep in mind that helmet sizes may slightly vary between different brands, so always refer to the specific chart provided by TeamSport when racing at one of our locations. 
Selecting Your TeamSport Helmet
Now that you have your head measurement and understand how to read our helmet size chart, it's time to choose the perfect TeamSport helmet for your next karting adventure. 
We will supply you with everything you need for a great day when you arrive on track, including protective overalls and a helmet. For this reason, you must know your helmet size when you arrive. You will not be able to try on multiple helmets to find your fit. 
There are a few additional factors to be aware of in preparation for your success on the tracks. 
To maintain high standards of hygiene and care, wearing a balaclava is now mandatory when you race with us. You can purchase a disposable balaclava from us when you arrive on site for just £1, or go eco-friendly with one of our reusable cotton balaclavas for £3.79. 
If you're a seasoned karter, you're welcome to bring your own race gear and balaclava, subject to approval from our trackside team. 
You can also purchase a balaclava ahead of your arrival, at the time of booking your event—just let us know and we can include a disposable or reusable balaclava with your booking, so you can simply collect it on arrival.
Why Is Helmet Sizing Important?
When you're going for gold and riding to victory, securing a helmet that fits is key. Loose helmets pose the risk of slipping off during a race and becoming a distraction, or even worse, dislodging during an impact and potentially injuring you and your friends. 
Conversely, a helmet that's too tight can lead to discomfort, making itself an obstacle to victory when it diverts your attention from a race. 
Helmets are your first line of defence when you hit the karting track. They protect your head from impacts and ensure you're safe during high-speed races. A well-fitting helmet not only enhances safety but also contributes to your overall performance and enjoyment. 
Don't lose before the race even starts, make sure your helmet fits!
TeamSport is Team Helmet
At TeamSport we champion safety on both our petrol go-karting and e-karting tracks. In the world of karting, safety should always be your top priority. 
Finding the right-sized helmet is a critical step in safeguarding yourself while enjoying the thrill of the track. 
By accurately measuring your head and referring to the provided helmet size chart, you can ensure a secure and comfortable fit. So, gear up, follow these guidelines, and get ready for an unforgettable karting experience with TeamSport. 
Remember, when it comes to karting, safety and fun go hand in hand, and a well-fitted helmet is your key to both.