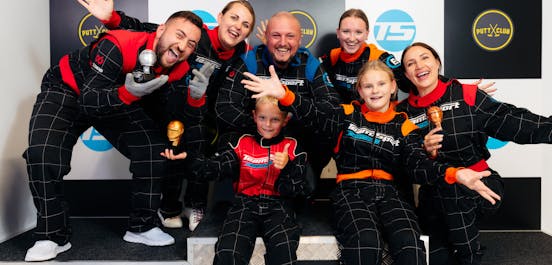 KIDS AND FAMILY ULTIMATE GO-KARTING RACE EXPERIENCE
Kids and families can race it out in our popular Ultimate Race Experience for a chance to find out who's the fastest in the family! 
Every racer will have a full safety briefing before we get you completely suited up and out onto the track - then it's just about zooming to victory! Our mixed racing sessions also allow kids to race against their parents, carers or older siblings on the same go-karting track, so no one needs to race alone!
Each session will be followed by a break where all drivers can access their personalised lap times, as well as a whole host of tips and tricks from our team to take back out onto the track.
Includes: Safety briefing, up to 30 minutes of go-karting, and personalised lap times via email (or via our free app).
Children have to be at least 8-years-old, with an inside leg measurement of 25 inches, to use our junior karts (set with a max speed of 25mph). Children over 12-years-old can use adult go-karts, which go as fast as 40mph. For any queries about rules, age restrictions or safety, please visit our FAQs page.